Frequently Asked Questions
Here you'll find a list of FAQ -- but it's by no means all-encompassing. Please contact the studio with any questions not answered here!
What covid safety measures do you have in place?
Please see our Covid-19 Safety Measures page for the latest updates on our protocol. Rest assured, we are doing everything possible to ensure your safety and ours.
What types of photography sessions do you offer?
I specialize in portraiture photography and commercial photography for small businesses. If you're looking for something that falls within those categories, I'd be happy to chat about being your photographer.
If you're wondering what types of photography we offer, here is a non-exhaustive list of ortrait services:
Engagement Portraits
Wedding Portraits (formal session, not event coverage)
Lifestyle Portraits
Group Portraits
Location Portraits
Pet Portraits
We also offer commercial photographic services (most often to small businesses in the local community, though we also create product shots that are featured in trade magazines).
Finally, our Fine Art Photography has been featured in local coffee shops and other businesses in the Ann Arbor area. If you'd like to learn more about having our art grace your walls, we'd love to chat.
How long have you been in business?
Betsy started Betsy's Photography in 2005. Back then, we didn't specialize in any one type of photography. Around 2010, in order to preserve and prioritize family time, we made the decision to specialize in the types of photography we offer today.
Why should I trust you to create my portraits?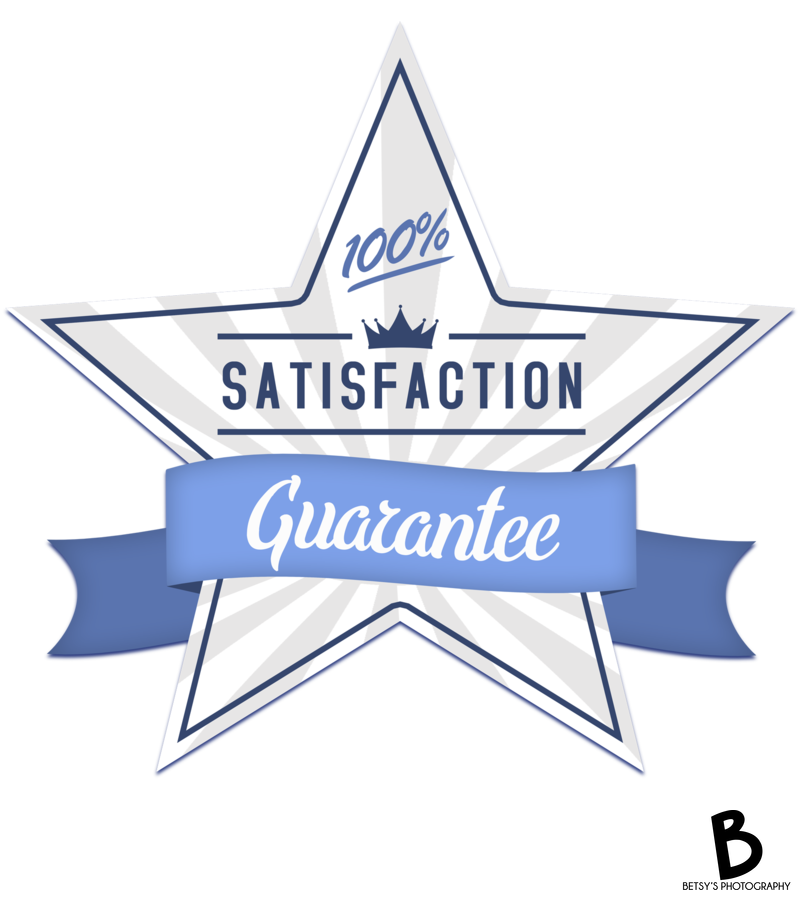 I'm good at what I do. I've been called a baby whisperer by my clients. I have a knack for making people look natural and confident. I can recall the clients who swore they never looked good in photographs -- but then they saw their portraits -- and loved how I captured the essence of their being (read what my past clients have to say about me in these client testimonials).

These portraits are going to be on display and enjoyed by your family for generations to come, so we're proud to stand behind our work with a 100% satisfaction guarantee.
What should I wear for my session?
Please check out our What to Wear page for help planning your wardrobe. You can also view our Pinterest inspiration boards or view the video below for ideas.
What if my child won't sit still, or is tired/cranky the day of the session?
As a parent myself, I know how kids can be. During the planning process, we'll work together to plan your session around naptimes, during your child's most cheerful time of day. Rest assured, if your kid is having a really off day, it's okay to just give me a call so we can discuss rescheduling options.
If you're concerned about your child sitting still, don't be! We love working with wiggleworms, and have tricks for handling all that glorious energy that comes with being a kid.
Do you have an actual photography studio?
Yes! Betsy's Photography has a dedicated camera room, complete with a full array of professional equipment. We've photographed groups as large as 14 people before. You can learn more about the studio if you like.
Where are you located?
My studio, Betsy's Photography, is located in Dexter, Michigan, just ten minutes from downtown Ann Arbor! Learn more about Betsy's Photography.
Can I have my portraits taken offsite or on location?
Yes! While our studio is a convenient choice for indoor or outdoor portraits, I love going on location -- to your home, a park, or elsewhere. I've photographed sessions in Ann Arbor, Dexter, Chelsea, Manchester, Saline, on the shore of Lake Michigan, and many other fun spots! Tell me what you have in mind, and we can make it happen.

Planning your senior portrait session? Read Tips on Choosing a Location for Your Senior Portrait Session.
What if the weather is bad the day of my outdoor session?
If you're planning a location session, it's natural to think about inclement weather. During the planning process, I'll explain my typical contingency plan for location portraits, which sets all of my clients at east.
In general, if the weather is bad, we will reschedule (or decide on an alternate/indoor location). Some types of foul weather that we reschedule portrait sessions for include:
thunderstorms/thundersnow and lightning
heavy rain or downpours
winter weather warnings/advisories, including extreme cold
excessive heat warnings/advisories, including extreme heat/humidity
tornado watches/warnings
extreme fog
We typically proceed with portrait sessions on a "play it by ear" basis for not-so-foul weather, such as:
snow flurries
isolated rain showers
There has been a time or two when we've rescheduled a session, expecting foul weather — and it turned out to be a false alarm. But those instances are few and far between. Usually when we play it by ear, we agree to decide a few hours beforehand whether it looks wise to proceed with your portrait session or not.
In short, if you're concerned about the weather having a negative impact on your portrait session, please contact the studio. We can discuss your concerns so you can be confident as we make the safe choice for your portrait session. Foul weather may require us to reschedule your portrait session, but it will NOT ruin your overall portrait experience.
What areas do you serve?
Betsy's Photography is pleased to provide photographic services in our local area. Frequent session locations include:
Ann Arbor, Michigan
Bridgewater, Michigan
Canton, Michigan
Chelsea, Michigan
Dexter, Michigan
Hell, Michigan
Lakeland, Michigan
Pinckney, Michigan
Manchester, Michigan
Saline, Michigan
Whitmore Lake, Michigan
Ypsilanti, Michigan
We have done destination sessions at many locations in Michigan, and are happy to travel further upon request. Some more distant session locations include:
Whitehall, Michigan
Grayling, Michigan
Mackinac Island, Michigan
Helena, Montana
Orlando, Florida
For more information about our availability to travel, please see the next FAQ question regarding travel and fees.
What are your prices?
Portrait Investment: Our portrait clients are always thrilled with the results from their portrait session, and typically invest $500 to $1000 if they only order smaller size prints, or $1000 to $3000 if they order wall portraits and albums in addition to prints. Gift prints range from $45 to $200; wall portraits begin at $250, with both framed and ready-to-frame options available.
Commercial Investment: We provide custom quotes for our business clients based on your needs. Rates start at $175 for brief headshots, and commercial jobs tend to range between $500 and $3000 depending on the scope of the job and number of images required.
Want to know more? We are happy to send you a personalized quote or complimentary investment guide via email if you contact the studio.
Do you charge a fee for retouching?
The portraits you order are all retouched by hand to eliminate acne, blemishes, the occasional stray hair, etc.... at no additional charge. On average, I spend between two and five minutes enhancing a portrait before it is printed. My retouching style is authentic and natural, though I am happy to discuss wrinkle reduction etc. if a client desires.

More extensive retouch requests are evaluated on a case by case basis. Examples of items that are not included: braces, tattoo removal, and extensive hair restyling.
What kind of prints and products do you offer?
The images themselves are creatively crafted — Betsy doesn't do cookie-cutter photography, so your session will be unique and styled to fit your needs. Each image you order is enhanced and retouched to eliminate temporary flaws and bring out your natural beauty — Betsy personally inspects every image to make sure it is up to our artistic standards.

Some client favorites include wall art, prints, memory boxes, albums, and greeting/announcement cards. You can view samples of these on our website by clicking on the links. Feel free to ask about any specific products you have in mind during the planning phase of your session, so we can plan accordingly.
Do you offer digital files?
If you're looking for a "shoot and burn" photographer, that's not our thing. We believe in providing you with quality retouched portraits, ideally in a printed format that will endure for decades. Of course, we also love to provide you with social media images to share too! Please read on for more about our digital file policy, as it does vary depending on the type of session.

For families and individual clients: We provide complimentary "social media" digital files of every portrait you order, as well as any favorites of Betsy's that she chooses to edit as a sneak peek or session highlight. We do offer a digital "package" if you would like to purchase a limited use license for printing purposes -- but most of our clients opt to order prints.

For corporate clients: We are happy to discuss your licensing needs and put together a quote for you based on your particular usage requirements.

For headshot clients: We provide a digital file along with a limited use license that should cover most of your business-related needs. Please note that author book jacket photos are not covered in the usage license, but we can quote this for you if desired.
Do you travel? Are there travel fees?
We include 30 miles roundtrip from the studio in all our sessions, and have reasonable travel rates for further locations.
Travel fees are mileage-based for much of Michigan (and parts of Ohio). More distant locations that necessitate an overnight stay will include individually quoted travel/hotel fees (e.g. Florida, Montana).
How soon should I schedule my session?
I recommend reserving your portrait session as soon as possible, as I accept a limited number of sessions weekly. During peak seasons, my clients often schedule several months ahead of time.
Depending on your schedule and mine, we may be able to fit in something on short notice, and I do typically reserve time in my schedule for less predictable things like headshots and newborn sessions.
What if I need help planning my session or placing my portrait order?
Master Photographer Betsy Finn meets personally with all clients throughout their experience — not just for the photo session. If you desire a pre-session consultation, you will meet with Betsy to talk about your vision and get any questions answered. When it comes time to order your favorite photos, Betsy will help you through that process as well (we have a projection ordering system at the studio that makes comparing and selecting images easy).
Will you submit my senior yearbook photo for me?
Yes. We provide this service to our clients, so you have one less thing on your plate. Note that each school has different yearbook requirements, so you'll need to confirm that information with us when selecting your yearbook photo at your view + order appointment.

Not sure what your yearbook photo requirements are? Check out our Yearbook Deadlines for High School Seniors guide. We do our best to keep this list updated and accurate, but the only information guaranteed is the information you receive from your school.
Do you allow pets in the studio?
We are happy to include pets in your photo session, whether on location or in the studio. Please mention this during the planning phase of your session so we can be prepared to welcome your pet properly.

Similarly, if you area allergic to animals, know that we do take special care to clean the studio after animals visit for portraits. Please mention any allergies during the planning phase so we can take extra care to prepare our space before your arrival!
Do you offer a baby's first year plan?
Yes! It's very popular, and is a great way to get the photos you know you are going to want. Our baby's first year plan includes four sessions, plus a framed art piece, a set of birth announcements, and even a bonus session! Please contact the studio for details.
Why are newborn sessions longer than your other sessions?
Newborn portraits are longer, because babies are unpredictable and need time to nurse, feed, be diapered, and tended to. Babies often will sleep through most of the session (and the portraits). It's actually not a big deal, because sleeping baby pictures capture the reality of a baby's days.

I usually recommend you stay indoors for your newborn portrait session. It's just more cozy for baby (and you). The studio is nice and warm for newborn portraits, there are comfortable chairs for nursing baby, and we have changing supplies at the ready. You don't have those luxuries when you venture outdoors.
Do you photograph weddings?
Not anymore. I was a wedding photographer for ten years; I loved adapting to the moment and photographing my clients at everchanging locations. Maybe that's why I'm a fan of location portrait sessions to this day, who knows?

Though I no longer photograph weddings, from time to time I do work with couples to plan engagement sessions as well as newlywed portrait sessions. How does this differ from wedding coverage? It's not candid event photography during your actual wedding. It's a planned portrait session, at a location of your choosing. If this sounds like something you'd like to hear more about, please let me know and I'd be happy to continue the planning process with you.
How do I reserve my session time?
To reserve your session, you pay a non-refundable retainer fee (typically $100-200). This will be applied towards your session fee, the remainder of which is due the day of your session.
What payment methods do you accept?
We accept cash, check, Venmo, and credit card.
What are your hours?
All sessions and meetings are by appointment only. I do offer evening and weekend appointments, which are limited, and book quickly.
What awards have you received?
In print competitions, Betsy's images have been named Detroit's Best of Show two times. She has been twice named Michigan's Top 7 Photographer. In 2010, Betsy was named one the industry's up-and-coming photographers to watch. Plus, Betsy's Photography was featured in Professional Photographer Magazine, and on DIY Network's reality show, "Renovation Realities." You can read more about the awards and accolades we've received if you like.
Do you give back to the community, or donate to fundraising events?
We believe in being a part of the community. Betsy has regularly donated her time and photographic services to non-profits and local charities, given photography programs to the community, chaired a national forum committee, and served as an elected representative for Michigan photographers. You can read more about how we pay it forward, if you like.
What photographic equipment do you use?
Some photographers publish their equipment list, but you won't find one of those on this website. It's not about the equipment. Have we spent thousands of dollars on reliable, professional quality, camera and studio gear? Most certainly.

The real reason why photographers share their equipment list is to prove that they have reliable, professional quality gear AND also backup equipment in case their gear has a mechanical failure. I typically use one camera and one or two lenses during a portrait session. I have multiple backup cameras and lenses. I have enough studio lights to swap in a replacement if there is a failure. I have replacement bulbs, extra batteries, duct tape, safety pins, the list goes on. Bottom line? I have reliable gear (and backups).
Do you belong to any industry associations?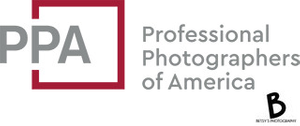 Betsy is a member in good standing with: Professional Photographers of America (PPA), This organization, and other local groups offer her the opportunity to further her mastery of photography and art, network with other creative professionals, and keep creatively inspired.
What's the best way to contact you?
You can contact me by phone (734-424-0472) or use the form on my contact page to send me a message.

If you'd prefer to schedule a time to chat, you can use my scheduling tool to set up a phone/virtual appointment with me (link opens in new window).