Portrait Session Planning Tips
One of the things I frequently hear when helping my clients plan their portrait sessions is the desire for individuality, for the pictures to reflect who they are and what they enjoy. I love finding ways to incorporate hobbies and the like into portraits. So, without further ado, here are 11 things to consider when planning your portrait session. Give these points some thought to make sure your portrait session is a success
1. Pick a place that is meaningful to you.
I love creating portraits on location, especially when the setting has memories attached. Like an engagement portrait session at the Arb in Ann Arbor where a couple met, or a senior portrait session on the football field for an athlete. Location is a big part of pictures. So when it evokes memories, that's a great thing!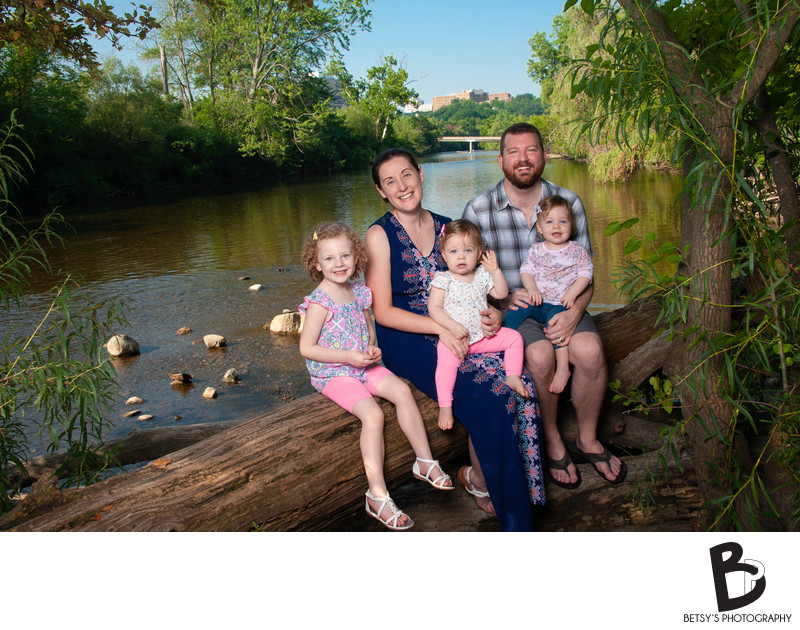 I created this family portrait at the same park where, years earlier, my client had come for her own senior portrait session. Talk about a fun memory for her!
2. Bring your pet along.
Pets are a big part of peoples' lives. So, including them in portraits is a natural way to add more personal meaning to photographs. I'm not one to shy away from being around exotic pets, so I'd be thrilled to photograph atypical pets as part of a portrait session. Usually, though, I end up working with the more mundane (but still lovable) four legged furry friends. Dogs are the most common pet my clients bring, but I've also done portraits with larger animals like horses (outdoors, of course).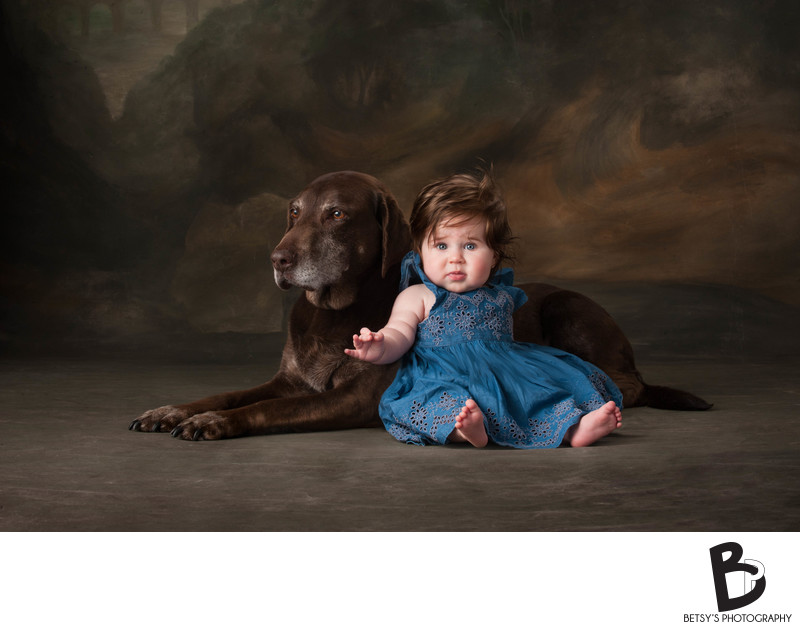 For this newborn portrait session, my client wanted to include the family dog. This Labrador Retriever was so sweet and gentle with her little human!
3. Include your instrument.
As the daughter of a professional musician, I enjoy when my clients want to document their love of music. Smaller instruments can be easily brought to the studio, but I've also gone on location to photograph less compact instruments like an alphorn, or chimes.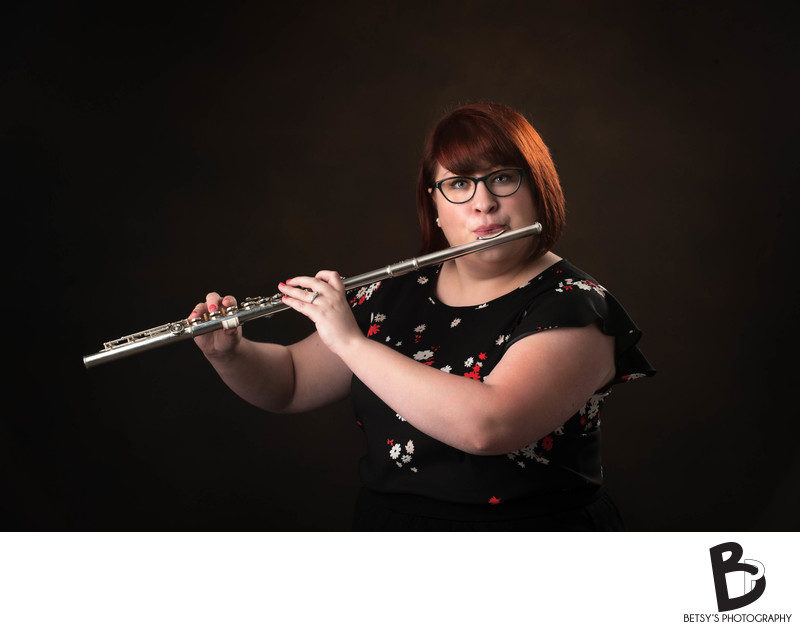 This client wanted some professional portraits of her with, and without, her flute. I love how this one turned out... very traditional and classic.
4. Show off your sense of style.
I've worked with a number of high school seniors who were interested in fashion and clothing design. Naturally, their portraits included several outfits to showcase their sense of style. Sometimes people have a signature hat they always wear, or a wristwatch that is particularly meaningful. items like these can be easily incorporated into portraits either on location or in the studio.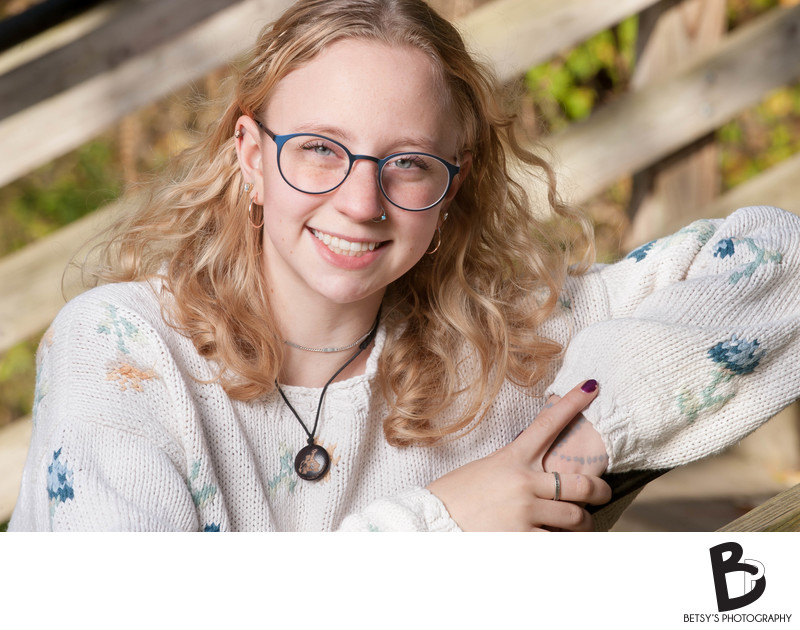 I love how this senior's glasses really bring out the color of her eyes, and also the blue flowers in her vintage sweater. Her personal style really shines through in this particular portrait.
5. Wear sports paraphernalia.
If you're a die hard sports fan, there is no better way to show your true colors than in your portraits. I've done University of Michigan themed family portraits — that was fun! High school seniors might want to include their letter jacket, a jersey, or other another sports item (helmet, stick, glove, etc).
This family wanted their portraits done at the Peony Garden, and intentionally wore University of Michigan attire to commemorate their favorite sports team. Love it!
6. Choose a specific time of year.
If you love a certain time of year, it makes a lot of sense to plan your portrait session during that season! I've done family portraits in the snow, high school senior portraits in autumn, you name it. We can plan ahead to make sure we keep on top of the weather (sometimes it's tough, for example, to get the fall colors in your portraits).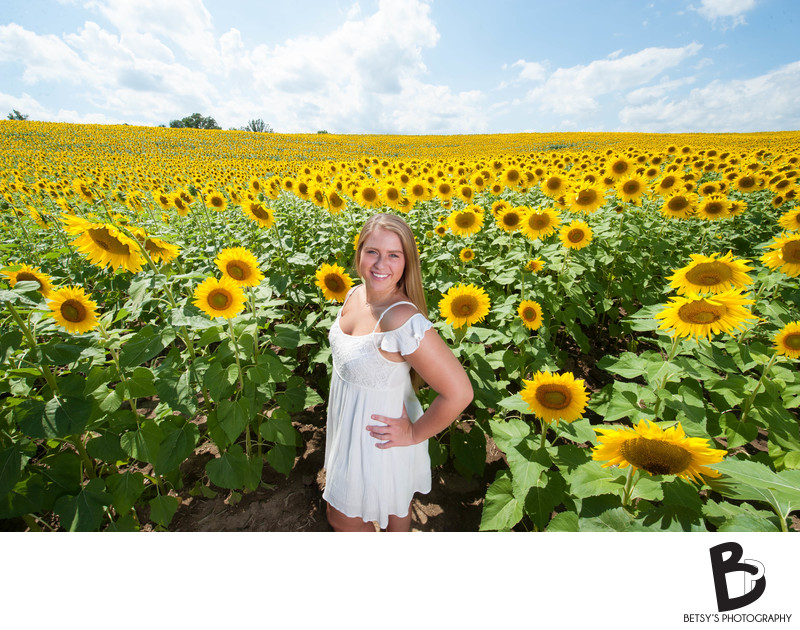 This senior portrait was specifically planned to coordinate when the sunflower fields were in full bloom. We had a short window of opportunity, but make it work!
7. Coordinate your accessories.
I have had clients personalize their portraits in more subtle ways too. Coordinating accessories isn't something that really sticks out as a way to personalize your session, but it can really make a difference. I had one high school senior who made her own jewelry — she wore it for her session. A family who loved wristwatches decided they would wear their favorite watches. It's all in the details. And if the details mean something to you, so much the better!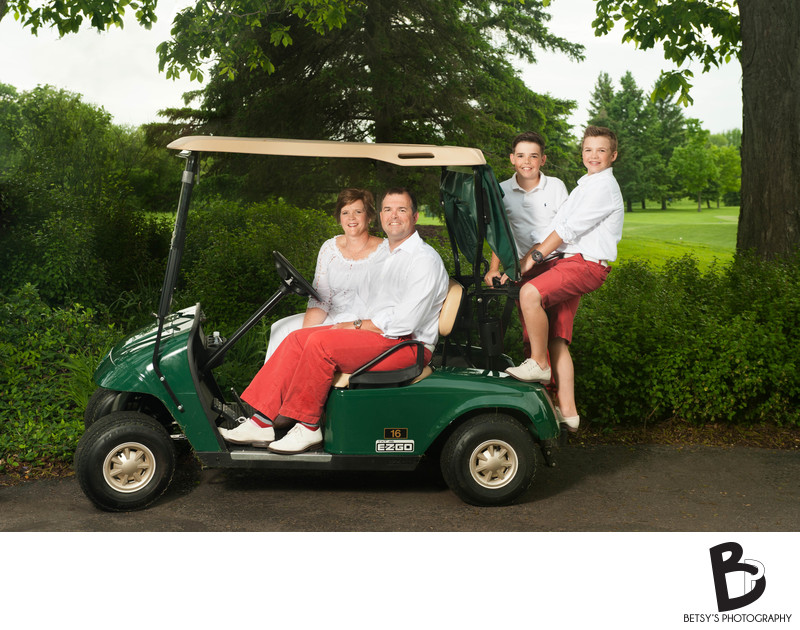 This family portrait at Barton Hills Country Club not only is adorable, but it highlights some of the family's interests. Everyone wore their favorite watch to add a little personal flair to a perfectly coordinated family portrait.
8. Incorporate a hobby.
While I've photographed family hobbies (such as golfing, see 7 Ways to Personalize Your Family Portraits), more frequently this is something high school seniors really want. Whether they're an aspiring artist, a fan of photography, or just an outdoorsman — seniors love to make their portraits communicate interests and hobbies.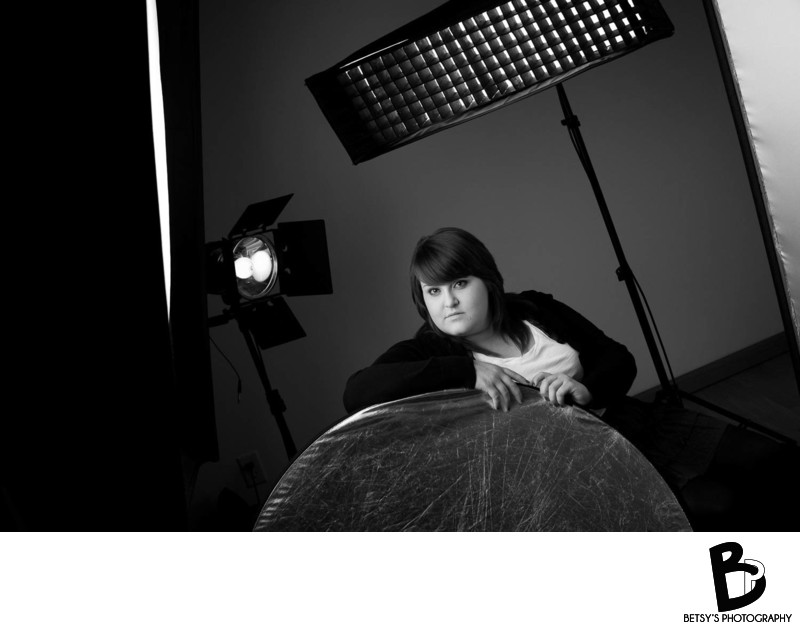 This senior was very interested in photography, so I included some of my studio lighting in the image. It was fun to intentionally show off all the equipment that is usually hidden from view!
9. Plan a candid session.
More photojournalistic in nature, candid sessions focus on capturing personalities and interactions. The photos forgo careful poses in favor of flow. For these types of sessions, we'll often walk around downtown, or through a park, pausing at select areas to create some candid portraits.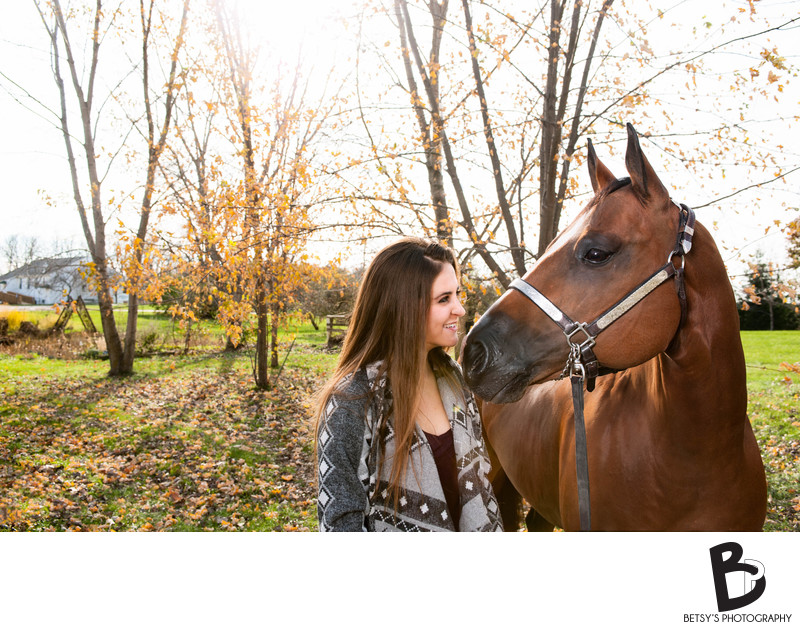 This senior session took place at the place where my client boarded her horse. We walked around the property, finding spots to photograph on the way. I love the candid feel of this captured moment.
10. Be silly.
Along the lines of candid captures — I love "forcing" silliness. It lightens the mood for everyone, even if we're doing a more posed and formal portrait. The more relaxed you are during your portrait session, the more you will love the results!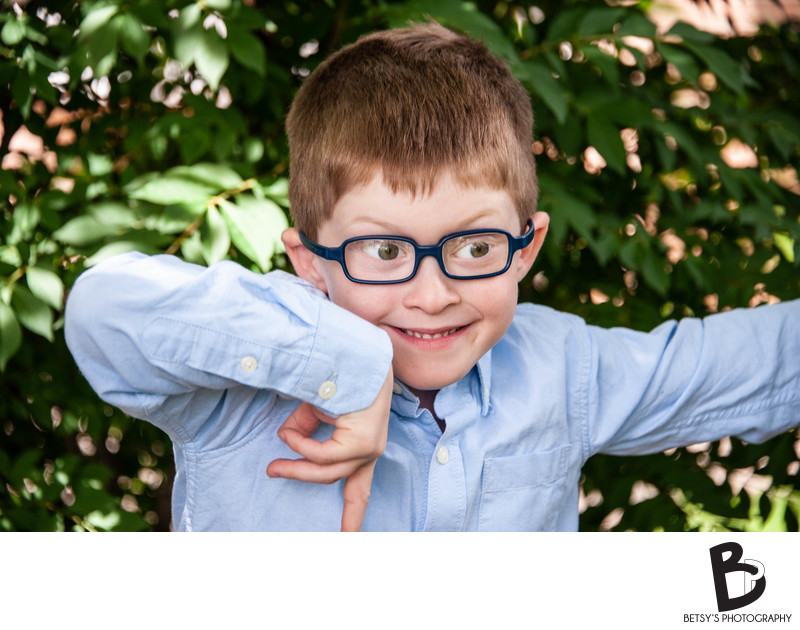 During a family portrait session at my clients' home, we went outside for a fun interlude of silly face pictures. The kids always love this, and it often helps my shy clients warm up to me so I can capture more authentic portraits!
11. For Outdoor Portraits, Make Backup Plans
While checking the forecast is a good idea, it's a better idea to have a backup plan. Think about whether you'd like to move to an alternate (indoor) location in case of rain, or if you would prefer to reschedule for another day in the event of bad weather.
If the weather forecast is questionable, we will arrange for a time to touch base and make the call about whether to proceed, reschedule, or stay indoors.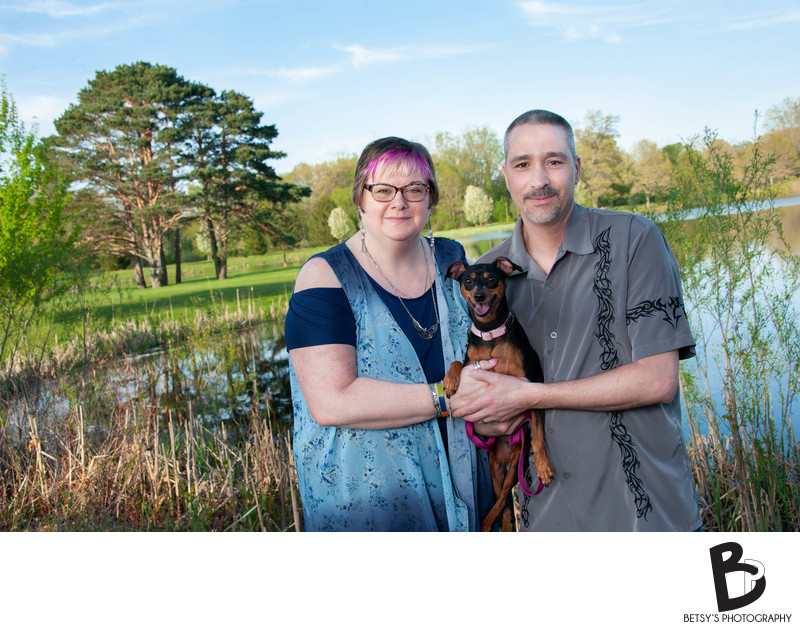 This client opted to have their outdoor family portrait at my studio. That way, in case of rain, we could proceed as planned (except inside the studio). Fortunately, the weather was gorgeous the day of their session!
So, there you have it. 11 things to consider when planning your next portrait session! If you want more help, we're here for you. If you have a clear vision of what you'd like your portrait session to be like -- that's fantastic! We'll look forward to hearing from you soon.
---
If you have questions, or would like to contact the studio about planning your portrait session, we've love to hear from you!