---
Dexter + Ann Arbor Portrait Studio
Betsy Finn established Betsy's Photography in 2005, and has been creating portraits ever since.
---
Betsy's Photography features a dedicated consultation room where we can meet to plan your session, and ultimately view and order your portraits. We have a dedicated camera room for studio portraits. Outdoors, we have a spacious grassy lawn overlooking a pond and wooded area with mature trees. These spots are great for outdoor portraits.
The best part? We're located just 10 minutes from downtown Ann Arbor.
Studio Tour
Betsy's Photography studio is located in the lower level of my home. Some people call it a basement, but it's really 880 square feet of dedicated studio space where I do all things photography. You'll find a cozy and intimate consultation room, and a camera room that can be used to photograph groups of more than a dozen people (My record is 14 for a multi-generational family portrait).
The best part? The studio is climate controlled. Despite the hot and humid months in Michigan, we will have a comfortable place to create your portraits.
After ringing the doorbell, I'll welcome you inside, and you'll be able to see wall portraits of my family in the living room before we head downstairs to the studio. You'll enter the consultation room, with sample wall art and portraits, and a projection system for viewing + ordering your portraits. From there, we'll proceed to the camera room, which is comfortably sized for individuals and groups alike (we've photographed groups of up to 14 people).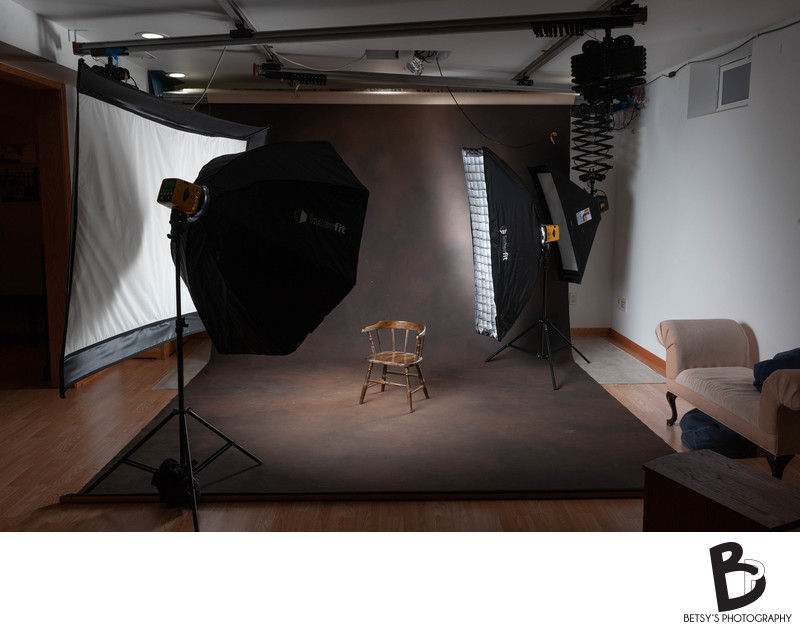 This is the camera room, as set up for a traditional kid portrait session.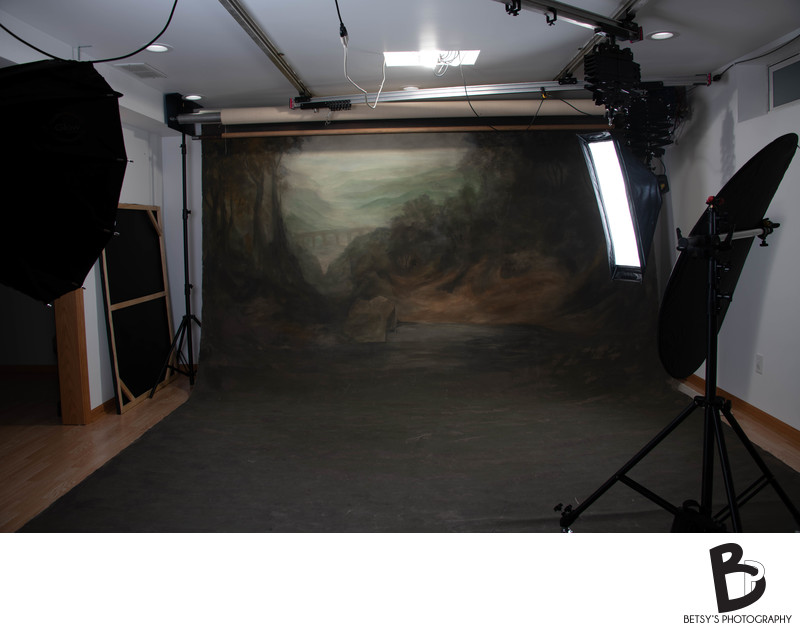 We have various hand-painted backdrops like this masterpiece, as well as more modern options for casual portraits.
---
Behind the Scenes - On Location
Wondering how we work on location? Betsy takes portable studio lighting on all location sessions, ensuring you will look your best regardless of where your session takes place.
If your session entails any outfit changes, we also provide amenities such as a portable changing room (great for high school senior sessions) and a folding wagon to help cart things around.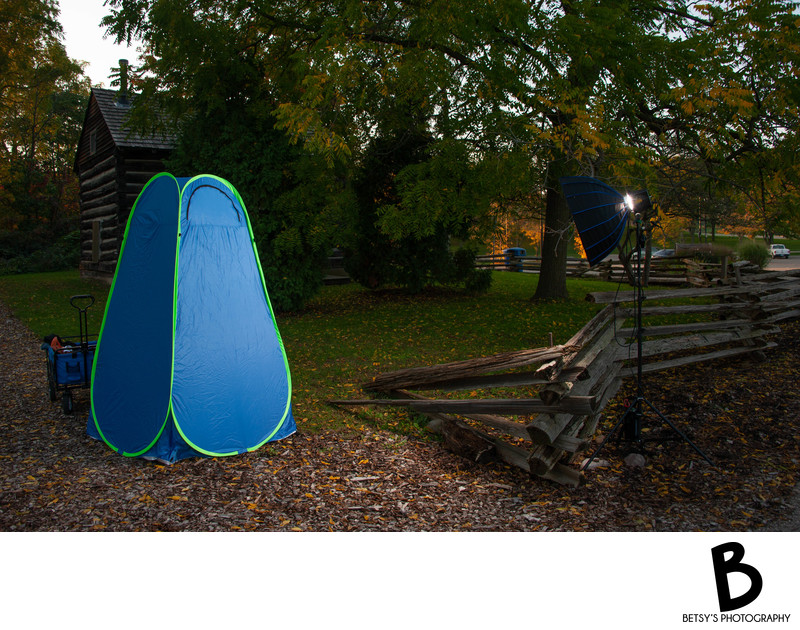 When working on location, we bring portable studio lighting with us. For sessions with multiple outfits, we bring a portable changing room and a folding wagon to make life easier for you.
---
Behind the Scenes - Safety First!
Curious about the logistics of setting up for a portrait involving kids or babies? Here are a few behind the scenes images to set your mind at ease.
To sum things up, safety always comes first!
Newborn Baby Posing (Studio Newborn Portrait)
I think sometimes it's helpful for my clients to see photos like this, because it can be super tough to visualize how baby gets settled into a particular pose or prop. Well, we do it carefully! Yara's mom was within reach the whole time, and I always tell parents that safety comes first. After Yara fell asleep, her mom was able to move just out of the camera so I could capture the planned portrait.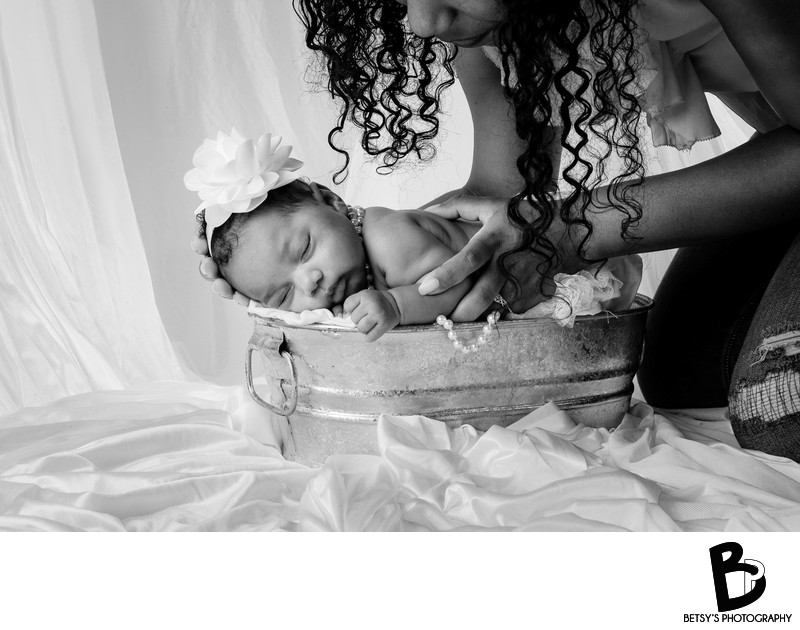 Setting Up A Sibling Portrait (Studio Kid Portrait)
These two boys were so sweet, but they definitely had the wiggles. Mom helped me get them in position for this portrait during their session, and then was right nearby in case her younger child needed a reminder to stay seated. Sometimes during sessions like these, I'll let younger kids hold a toy or special treasure (it helps focus their energy!).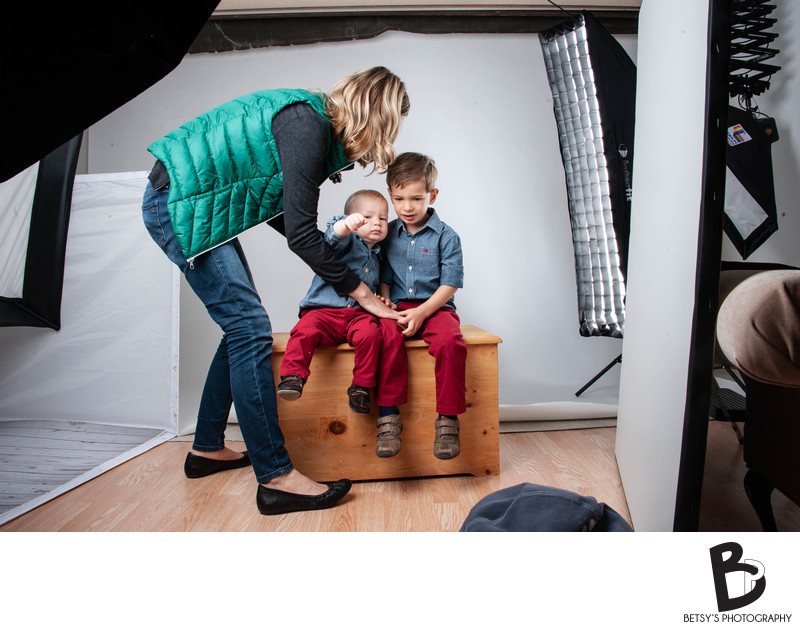 Mom Watching Baby (Studio Baby Portrait)
I've included a few pull backs from baby S's baby portrait session, so you can see how close mom is to her little one throughout the session. Depending on how well babies and toddlers can balance, I will sometimes add in cushions and extra padding just out of view as an additional safety net.
And you can also see the cute adorable mini set I have for little ones. It helps make the environment feel a little more cozy (and much less vast and scary). Plus, it functions as a containment zone if we're photographing a mover!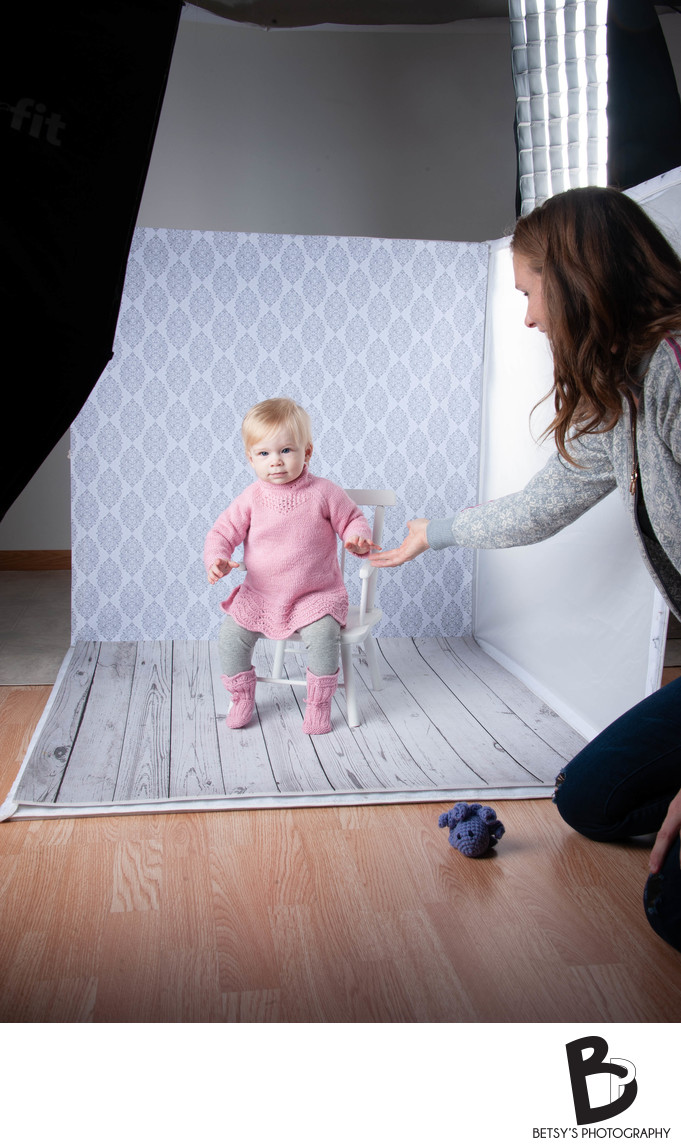 So relax. Just contact the studio and let us manage the details; you deserve to enjoy your portrait experience.