Article Archive
I created these articles for my clients some years back. The content was originally published on my blog at the time, and with a recent site revamp it was time to let the old content go. All, that is, except for these gems -- the most-accessed, most popular articles.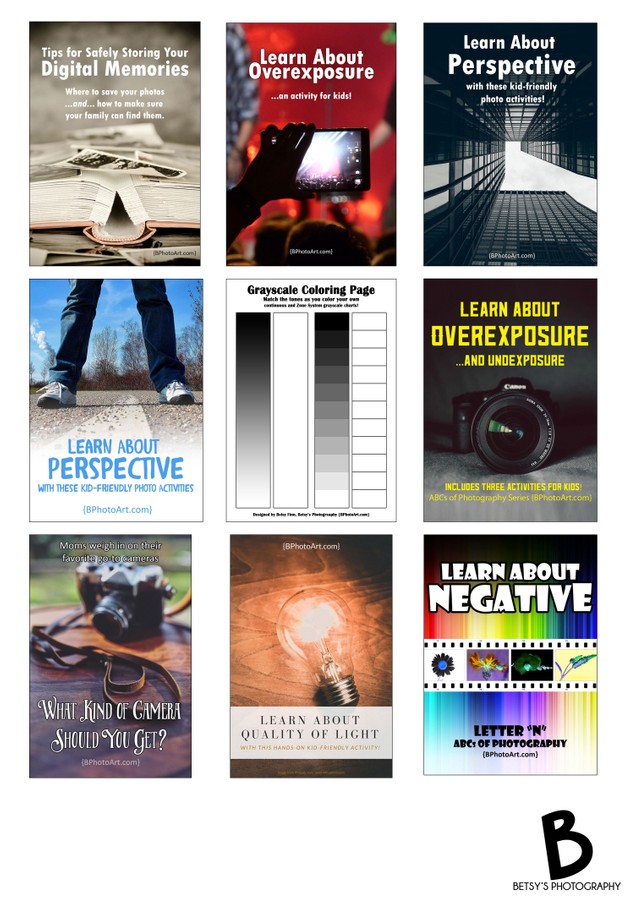 I've reformatted each article so you can have access to PDF files (on Google Drive) with clickable links. Note that my series, the ABCs of Photography, is presently incomplete (T,V,W,X,Y,Z are on hold, with plans for future publication).
Enjoy!
Photo Articles for Parents
20 Questions About Dad(To Ask Your Kid)
20 Questions About Mom (To Ask Your Kid)
5 Things to Include in Your Newborn Photos
5 Tips For Taking Great Pet Snapshots
ABCs of Photography – An Educational Series for Kids (at end of page)
Be Ready for School Picture Day (8 Tips!)
Digital Retouching and its Impact on Self-Worth
Mom-Approved Cameras - What Kind of Camera Should You Get?
Portraits on Railroad Tracks? Bad Idea!
Senior Photos in the Backyard? 3 Reasons you should consider it!
Tips for Getting a Family Snapshot with out of Town Relatives
Why You Should Backup Your Phone Pictures Regularly
Why you shouldn't wrap your kid in Christmas lights for photos
Kid Articles For Parents
30 Tips for Going On a Road Trip with Kids (a parent's survival guide)
50+ Road Trip Games + Activities to Keep Your Kids Entertained
50 Things You Can Do With Your Toddler While Caring For Your Newborn
101 Things Your Kid Can Do With a Cast On
Getting Kids to Eat Healthy Food
Getting Kids to Relax and Smile for Pictures
How to Plan an Outdoor Photo Scavenger Hunt for Kids
Making Memories – Family Thanksgiving Traditions
Making Memories – 20 Takes on Favorite Family Christmas Traditions
Planning an Outdoor Nature Walk
Travel "ID" Card For Toddlers (+Printable)
Using Imagery to Calm an Overstimulated Child
Valentine's Day Blessing Activity
The ABCs of Photography - An Educational Series for Kids
I wanted to find a way to simplify the concepts of photography, bring some of them down to the comprehension level of a child. Because you are never too young to enjoy photography. My kids are proof of that. And I'm sure many of you can vouch for the fact that your child has snagged a smartphone to take a plethora of snapshots, or a horrendously long candid video — of the ground or who knows what.
Now, photographic education is a lifelong pursuit. So, I figured we could just touch on the basics. Or, some of the basics. Twenty-six of them, to be specific.
The ABCs of Photography, was designed as an educational series for kids. There will be some suggestions about adaptations for younger children as well as older kids — but the vast majority of this series will be designed for enjoyment by all ages.
The master list of my Photography ABCs is below, and you can access all articles in PDF format at the link below: (it's a folder on Google Drive). Alphabet letters T,V,W,X,Y,Z (not bolded) are not presently available.
A is for Aperture – Learn About Aperture Using a Simplified DIY Model Camera
B is for Bokeh – Learn About Bokeh (a simple hands on experiment for any age)
C is for Camera Obscura – Learn About Cameras: Make a Camera Obscura
D is for Double Exposure- Learn About Double Exposure
E is for Existing Light – Learn About Existing Light (Scavenger Hunt with Free Printable!)
F is for Flash – Learn about Flash with 3 fun activities!
G is for Grayscale – Learn about Grayscale (printable coloring page!)
H is for Hue – Learn About Hue (+printable)
J is for Jaggies – Learn About Jaggies (Graph Paper Coloring Activity)
K is for Key – Learn About Key (High Key + Low Key)
L is for Lens – How Lenses Work (Kid Friendly Activities!)
M is for Macro – Learn About Macro
N is for Negative – Learn About Negative (plus coloring page printable)
O is for Overexposure – Learn About Overexposure (camera activity for kids!)
P is for Perspective – Learn About Perspective (hands on camera activity for kids)
Q is for Quality (of Light) – Learn about Quality of Light (a kid-friendly experiment!)
R is for Rule of Thirds – Learn about the Rule of Thirds (a fun snack activity for kids!)
S is for Shutter Speed – Learn About Shutter Speed!
T is for Time Lapse
U is for Underexposure – Learn About Under + Over Exposure
V is for Vignette
W is for White Balance
X is for X-Ray
Y is for Yellowing
Z is for Zoom / Zone System