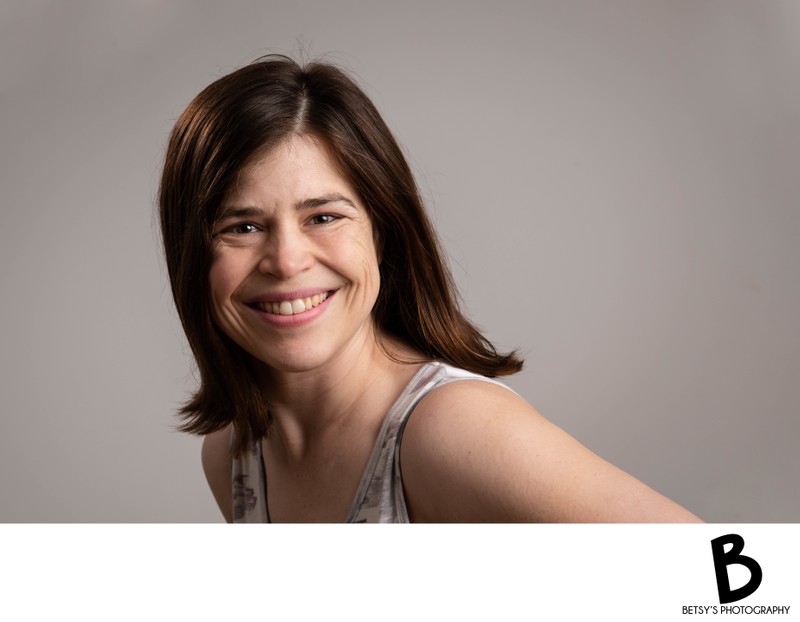 Quarantine self-portrait of Betsy :)
May 29th, 2020
Safety Measures
Hi Friends!
I have missed seeing your friendly faces at the studio during our government-mandated closure. With things starting to open back up again, I wanted to take the time to communicate with you our plan for reopening, and, for those of you who are longtime clients, how things will be a little different.
Planning
In addition to filling out a questionnaire prior to your session, I strongly encourage you to set up a virtual meeting with me. By spending 10-15 minutes chatting beforehand, you can see me without a mask on, get comfortable with me, and have any questions answered. In short, this will help you be more relaxed while I photograph you in a socially distanced manner. I am available to meet virtually on Skype, FaceTime, Zoom, etc…just let me know what works best for you.
The Session
For the time being, we will be conducting sessions outdoors on location rather than inside or in my studio. This seems to be the safest way to keep exposure to germs low.
When working on location, I have always brought studio lighting with me, so this won't be a big change. If you want a more formal portrait with studio background, just let me know ahead of time so I can bring a portable background.
Another change will be the wearing of masks, and social distancing. I will wear a mask throughout the duration of the session, as should anyone present who is not being photographed. If you are being photographed please wear a loose mask or no mask for at least a half hour before your session, so there are no imprints on your face.
Finally, if you are planning a large group portrait, please be aware that we do need to follow maximum gathering restrictions. Until further notice is received from the CDC and other health officials, we will need to observe the maximum gathering rule of 10 or fewer persons (including myself). I do have the ability to make composite images and am happy to discuss options for photographing large groups at separate times if necessary.
Rescheduling
I've always maintained a flexible rescheduling policy, and that will continue! Please make sure to touch base and let me know if you think things may need rescheduling, either due to a missed naptime, or due to illness.
Regarding illness or symptoms: we appreciate your consideration of others as you evaluate how you are feeling before your session. If, in the last 14 days, you have had a cough or any flu-like or COVID symptoms or have been around anyone exhibiting these symptoms, we thank you for contacting us to reschedule. Additionally, please notify us if you are living with anyone who is sick or quarantined.
Viewing + Ordering
One of my favorite parts of working with you is guiding you through the process of selecting your favorite portraits and deciding what products work best for your home. I wish I could still invite you to my studio to do this in person together, but for the time being, we will be doing this virtually.
I'll go over all the details with you beforehand, but let me reassure you I am still here to help answer your questions and provide my artistic input as you find helpful!
Questions
If you have any questions, I would be happy to chat with you on the phone (734-424-0472) or via email (contact me).
Creatively yours,
Betsy Finn