Painting of Girl with Flowers
It was so fun to put this piece together. You'll see what I mean once you look at the original snapshot my client gave me.
Let me show you a before and after. Notice how much more space there is in the image, how her darling curls are now fully within the image… I decided to add tulips to the background because of her adorable pink dress. And naturally, in a field of tulips, what little girl wouldn't want to pick one for herself or a friend?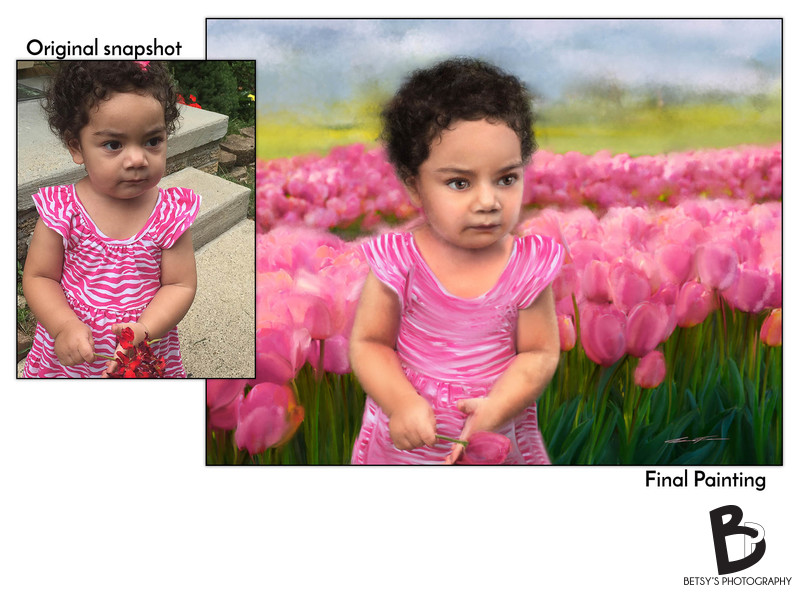 I particularly love those eyes! Adding life and sparkle to eyes is one of my favorite parts about doing these paintings. Truth be told, that's where I spend much of my time — making sure the facial expressions are just right. The backgrounds tend to fade away into impressionistic brush strokes, because that's not the focus of the portrait. I want your gaze to be locked on hers. Everything else in the image is secondary.
These before and afters are almost my favorite part!… because you get to see where we started!
The only thing better is getting to reveal the final painting to my client. It's hard to put into words, honestly. The original snapshot was already valuable to my client, because it captured a moment, it brings up sweet memories.
But when I create a painted portrait from the snapshot, there is a sort of transcendence — the value of that moment becomes more apparent to others too. It becomes ethereal, dreamy. The image becomes a conversation piece, a jumping off point for reminiscing. That's why I love creating these paintings!
---
If you'd like to see more painted portraits, or are interested in commissioning me to turn one of your lovely snapshots into a painted portrait, please contact the studio.